Looking for easy kids crafts to celebrate St Patrick's Day? We've found so many fantastic leprechauns, shamrocks and rainbows across the web… here are our three favourites for young children. We'll warn you though, it's going to get messy…
Toilet Roll Leprechaun
Pretty self-explanatory, and very easy to make. If you're trying this out with toddlers or preschoolers they might need a little help drawing the face but otherwise they should be able to create a decent looking Leprechaun!  Visit Moments of Mommyhood for some step-by-step instructions…
There's something magical about this rainbow painting craft, and it'll be sure to please children of any age. From experience we can tell you that your primary school children will create the most stunning painted rainbows with delicate flecks of glitter, while you might need a bit more imagination to work out whether her little brother has made a rainbow or a spider (why does the boy love black so much?!). In any case, give it a go, and let us know how you got on!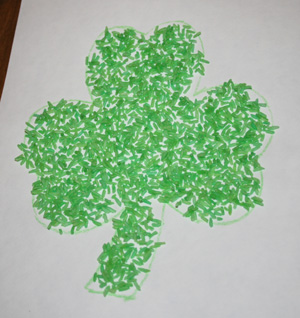 Great little craft for younger children – you can be in charge of wielding the white glue but let them loose with some green rice so they feel like they're creating their shamrock independently. The kids will absolutely love it.
About the Author: Janis
I look after the day-to-day running of ReallyKidFriendly.com, as well as some geeky stuff behind the scenes. Thanks to my two boisterous rascals (aged 4 and 5), I have become an expert in soft play areas, parks, energetic music classes, and where to get a stiff drink once the kids have gone to bed. Really – ask me anything!